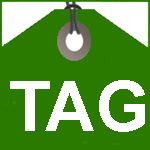 TAG: TRANSATLANTIC ARCHAEOLOGY GATEWAY
---
About | Partners | Presentations | Workshops | TAG specifications
---
On both sides of the Atlantic, the discipline of Archaeology has been a relative early adopter of ICT in teaching and research, particularly when compared with other arts and humanities. Archaeologists routinely create vast quantities of primary digital data, in a rich variety of formats, including structured and unstructured text, spreadsheets and databases, still and moving images, CAD, GIS, landscape and object-scale 3-D scans, and virtual reality models. Although digitisation is important for legacy data sets, much of this primary data is already born digital. As the only record of unrepeatable fieldwork it is essential that these data are preserved, for re-use and re-interpretation. In the UK the Archaeology Data Service (ADS) has developed into a national repository for digital data from the UK historic environment sector, cross-cutting the academic and public and private sectors. In the USA, it has taken longer to establish a national archival infrastructure but in December 2008 the Digital Antiquity initiative and its digital repository, the Digital Archaeological record (tDAR), was established at Arizona State University, with generous funding from the Andrew W Mellon Foundation. Digital Antiquity's scope also includes archaeology in the private, governmental, and academic sectors (http://tdar.org/).
The primary aim of the Transatlantic Archaeology Gateway (TAG) project has been to develop tools for transatlantic cross-searching and semantic interoperability between ADS and tDAR. This will provide a sustainable service for archaeological teaching, learning and research across two continents; it also provides an exemplar for international cyber-infrastructure partnerships between North America and Europe, across all subject areas.
Read the Final Project Report (PDF)
Funded jointly by JISC and the NEH, TAG has developed interoperability between the USA and UK at two levels. The first stage has been to create an infrastructure to enable basic cross-search of Dublin Core compatible metadata records for digital resources covering the archaeology of the USA and UK. This has built on earlier work on the EU-funded ARENA project which demonstrated such an approach achievable within Europe. Nonetheless, mapping European to North American metadata schemes offered some real challenges, particularly with regard to periodisation and subject type. The second stage of TAG is attempt to develop a much deeper and richer level of cross-searching for faunal data from North America and Europe. This sub-discipline has been chosen as there is a relatively high level of agreement over basic classifications; the provision of deep data mining will be truly ground-breaking.